As you know, I've been taking part in the #CraftBlogClub chat since the very first one over on Twitter back in 2013, and even though I now teach on a Tuesday evening, I still manage to sneak along during the break in my night class! For those of you who don't know, #CraftBlogClub is a hashtag conversation on Tuesdays between 7pm and 8:30pm. There is a 'no selling' policy, as it's all about blogging and crafting. Click here to see the filtered stream for the conversation!
#Craftblogclub Challenges
So anyway. We often have challenges to try and prompt members into trying new crafts or techniques, or making presents for fellow members. In the past, I've made handwarmers for Amanda from Gift Frippery (left), jewellery for Nadia from Abso-knitting-lutely, and a neckwarmer for Denise, as well as other bits and pieces, like knitted mug hugs, an upcycled bracelet for my mum, or a jam jar pumpkin for my window at Halloween.
However the latest challenge is a bit different – we've been tasked with writing a blog post about 'firsts'! As Fiona says in her blog post about it, we can talk "about the first thing you made, first craft you tried, first blog post, first time you tried something new". Straight away, I knew what I wanted to talk about!
First came jewellery…
When I first started IcyHandmade, my focus was my handmade jewellery since that was what I'd been working on for a while. I can't actually remember what the first item was that I made as I'd been making jewellery for myself for a while, but the first item I made to sell was my Key to Time bracelet. I was so proud when it finally sold!
And then came knitwear…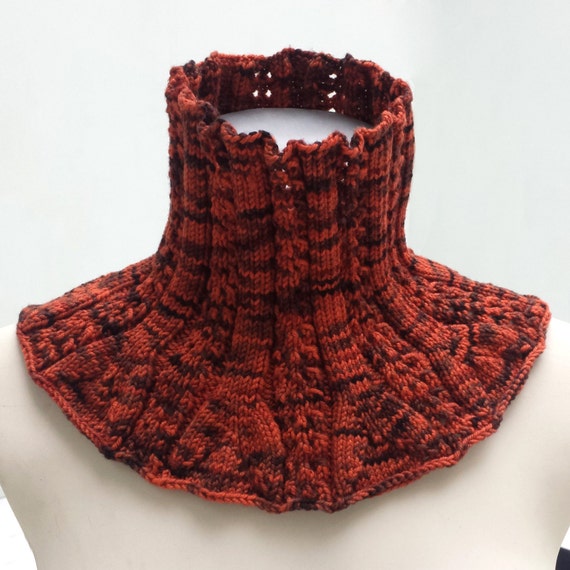 As time has gone on, I've begun to incorporate my knitwear and crocheted accessories into my catalogue, and the first knitted item that I designed and made specifically to sell was my autumnal neckwarmer. I made it using self-striping Araucania Lace Merino Worsted, and I'm really proud of it, even if it is still in stock! I love the fit and flare design, which keeps it nice and snug under a coat, without the bulkiness of a scarf or cowl. I might have to make one for myself, actually.
But where did it all begin?
Like most girls, I'd had a few attempts at learning to knit when I was younger, but it wasn't until Christmas 2008 that I asked my mum again to teach me. My first item was – surprise surprise – a scarf! I had a ball of self-striping DK – I have no idea who made it – from a jumper my mum had made for me when I was still at school, and I decided that would make a marvellous first scarf.
Isn't it glorious?! Obviously I made the silly error of knitting the entire thing in stocking stitch, so the edges curl over on themselves like you wouldn't believe, and because I only had one ball, it was never really long enough to wrap around the neck the way I wanted to wear it.
If I was to do it again, I'd either knit it in garter stitch, or add some sort of decorative border (perhaps moss stitch). I'd also block the daft thing in an effort to keep it flat! There would also be tassels. I've got a thing about adding tassels to scarves now, it's really rather odd. Anyway.
Here's the scarf in all its glory. According to its entry on Ravelry, I started it on January 3, 2009, and finished it on April 8, 2009. I don't think I ever actually wore it, and if I'm honest I'm not even sure where it's gone, but I'm so proud that I actually made it from one end of a project to the other without dropping any stitches or making any massive errors (I've saved that sort of nonsense for the sock I've been knitting for Nadia's #sockKAL!).
It really gave me the knitting bug, and as time has gone on, I've knitted all sorts from hats, handwarmers, bags, jumpers, scarves, cowls, hot water bottle covers, and toys.  I even knitted this bride and groom couple for my best friends when they got married!
I'm so grateful to that scarf, even if I never wore it, for giving me a taste of the knitting bug! If you're interested in my other projects, come and add me on Ravelry!
What was the first thing that you made?